2017 Bentley Flying Spur V8 S Road Test Review
The sport sedan of sport sedans
The "base" Flying Spur boasts a twin-turbocharged 4.0-litre V8 outputting 500 horsepower and 487 lb-ft of torque through an eight-speed Quickshift automatic with manual mode and paddle shifters plus standard 40:60 rear-biased all-wheel drive that grips tarmac via sizeable 19-inch alloys wrapped in 275/45ZR19s, the result being a 5.2-second charge to 100km/h, a 295 km/h (183 mph) top speed, and plenty of capability through the corners.
Even better, the 6.0-litre W12-powered version, simply called Flying Spur without any engine reference, hits 100 km/h in 4.6 seconds before attaining a 320-km/h terminal velocity thanks to 616 horsepower and 590 lb-ft of torque. In other words, Bentley doesn't make a Flying Spur that wouldn't qualify as a sport sedan, so calling the new V8 S the "sport sedan" of Bentley's 2017 Flying Spur range somehow doesn't seem right. Still, the new V8 S feels sportier than the base V8 as well as the pricier 12-cylinder model.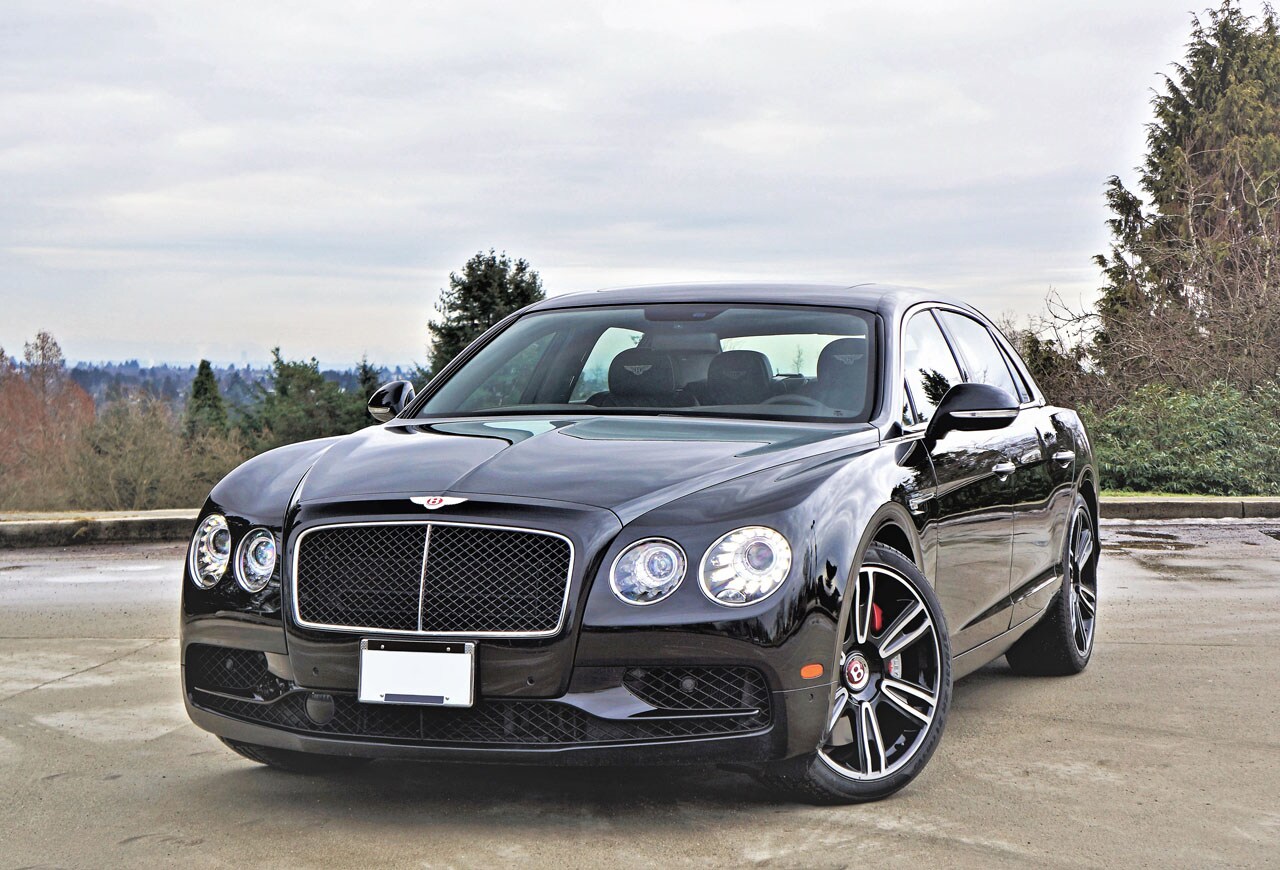 Luxurious yet sportier than the base V8 and pricier W12
To be clear, the Flying Spur V8 S I most recently spent time with is just as lavishly appointed as the entry-level V8 I tested last year, even more so thanks to some upgrades, but the previous car, and earlier non-"Speed" 12-cylinder models tested, focused more on ultimate comfort and refinement than speed and agility, with their generous sporting elements only apparent when right foot hit floorboard. The V8 S, on the other hand, even makes its performance credentials known before sliding into its opulently attired interior.
Standard, the V8 S gets gloss black mesh grille inserts, sportier front and rear valances, red-painted brake calipers, diamond-turned 20-inch six twin-spoke alloys with black painted pockets on 275/35ZR20 Pirelli P Zeros, plus red Bentley badges, although take note the first item and the last two on this shortlist can be added to the regular V8.
The redesigned front fascia that pulls cues from Bentley's own Continental two-door, which itself owes some aerodynamic inspiration to the brand's World Endurance Championship (WEC) competitive GT3 race car, is shared with the fabulous Flying Spur W12 S announced late last summer, the absolute pinnacle of four-door sport sedan status, a richly appointed limousine that whisks from zero to 100 km/h in a mere 4.5 seconds before maxing out at an astonishing 325 km/h due to 626 horsepower and 605 lb-ft of torque, this the fastest four-door in the world and therefore the ultimate sport sedan, period.
Flying Spur V8 S packs 521 horsepower for a 4.9-second sprint to 100km/h 
Bentley takes performance seriously, but you don't have to spend upwards of $340k to get one of the sportiest Flying Spurs, the $285,578 (at the time of writing; it's price is tied to the U.S. exchange rate) V8 S mostly looking the part and delivering extremely entertaining dynamics. It's 58-kg lighter than the W12 S, most of that over the front wheels where the difference can be felt in wonderfully reactive steering and greater resistance to understeer, while the V8 S model's ability to catapult away from stoplights improves by 0.3 seconds over the base model, with a zero to 100 km/h time of just 4.9, which comes by way of an extra 21 horsepower and 15 lb-ft of torque for a new total of 521 and 502 respectively.
While the numbers are impressive, the real gains focus more so on overall feel and drivability. Set to Sport mode the V8 S feels eager, raring to go. Sharper throttle response seems like a shot of adrenaline at takeoff, and the exhaust note is more pronounced throughout the rev range. Likewise, the transmission snaps from gear to gear with more enthusiasm, in crisper yet still smooth increments, and then holds its chosen cog more attentively. Of course those aforementioned 20-inch Pirellis grip asphalt more adhesively, just as important for launch as in the corners, where a tauter sport suspension joins reprogrammed stability control that allows a little less stick at the rear for more fun through tight curves. Oversized rotors improve stopping power, and there was hardly any noticeable fade after repeated stomps, but take note carbon-ceramic brakes are available.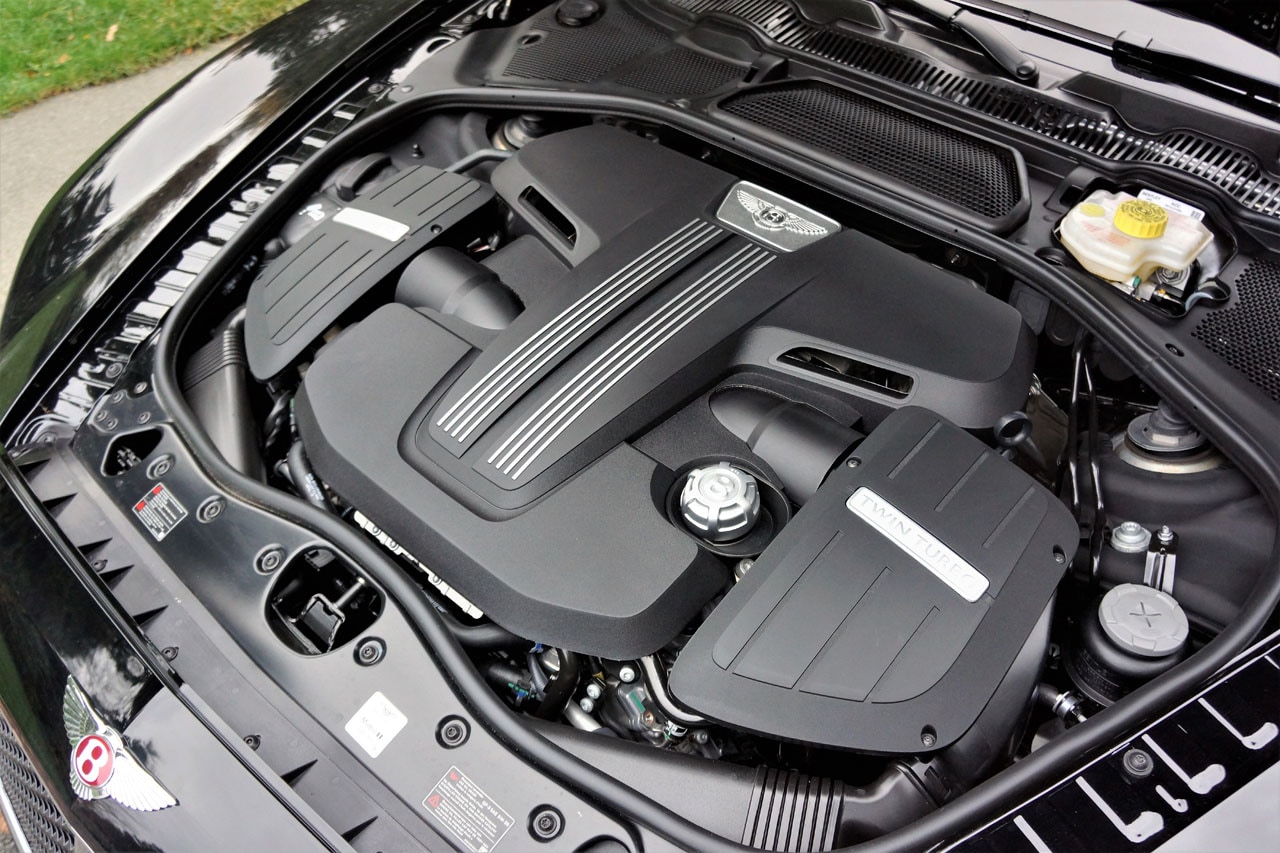 Driven more moderately the V8 S is still comfortable beyond measure
Tone things down a notch and the V8 S makes for a similarly smooth and pampering ride as its luxury-tuned sibling, this being an apropos time to enjoy the incredible attention to detail Bentley provides for every surface you touch, knob you twist, lever you pull, and button you press. Notables include mirror-finished chromed metal power window switches, the fabulous solid metal organ stops used for ventilation control, the heft of the vent louvres themselves, all of the beautifully chromed, brushed and knurled metal knobs, the same metal detailing on the paddle shifters and gear shift lever, the phenomenal woodwork throughout the cabin (or the superbly crafted piano black lacquered hardwood that comes standard in the V8 S), and the otherworldly leatherwork most everywhere else.
My tester's cabin was finished in delicious dark chocolate Burnt Oak upholstery with beige piping instead of standard all-black Beluga, the seat inserts perforated and quilted to perfection, the dash, door inlays, and other key surfaces finished in a more traditional looking Dark Fiddleback Eucalyptus. In back, yet more dark hardwood was used for two folding picnic tables attached to the front seatbacks, while the rear seats were powered with four-way lumbar support and memory settings. Like the seats up front those in back were optionally heatable, cooled, and gave a pretty decent massage too, their controls found at the side of each seat and on the backside of the front console within a removable smartphone-sized tablet that also modulates the rear compartment's dual-zone auto climate control. As for overall roominess and comfort, you won't be disappointed.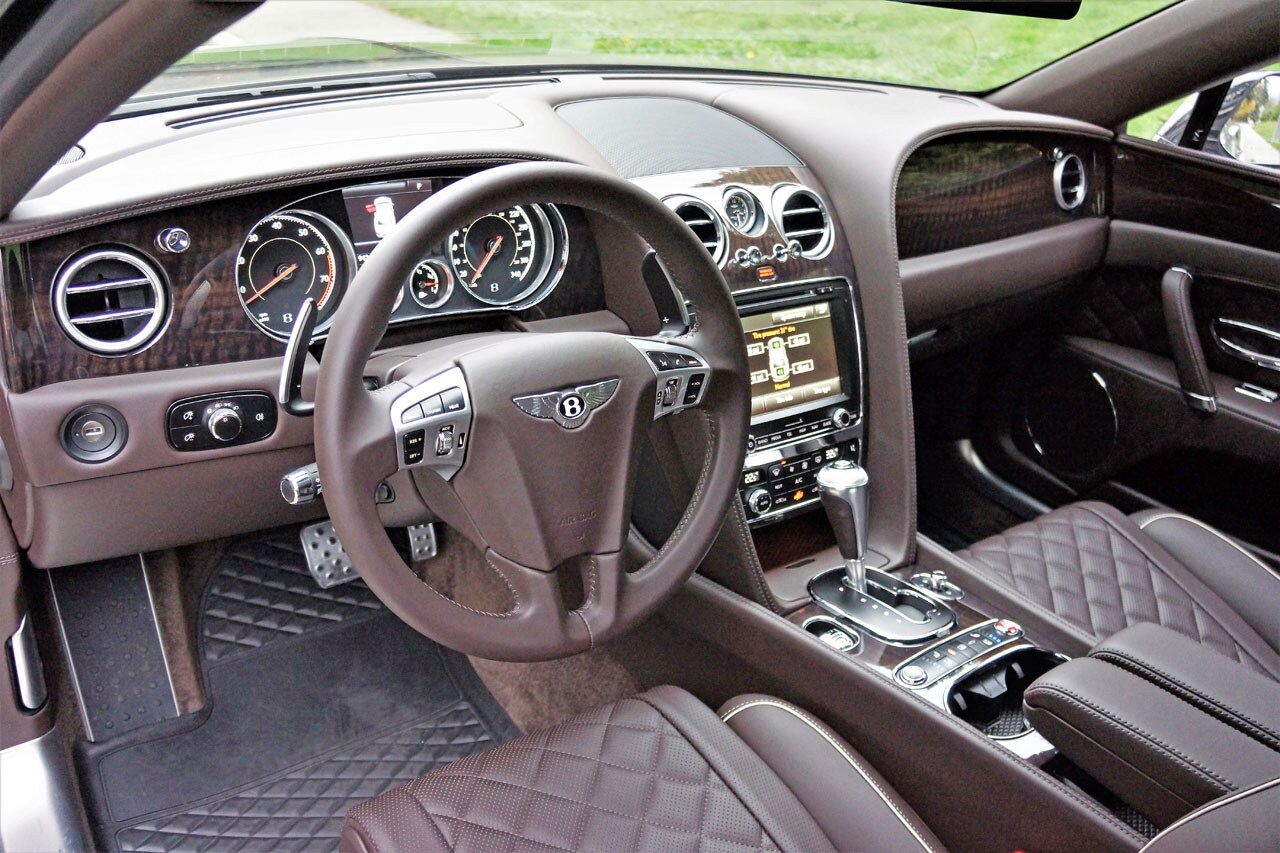 An amazingly full list of standard and available features
Most everything you could want already comes standard with the base $263k Flying Spur V8, the move up to V8 S adding the previously noted performance and exterior styling upgrades, the knurled metal shift knob and paddles, the diamond-patterned quilted seats, and a sport steering wheel. If you feel so inclined options not already mentioned can include alternative 20-inch rims or 21s, a wide choice of steering wheels, yet more wood veneers, aluminum, or carbon-fibre, a suede-like Alcantara headliner, a powered panoramic glass sunroof with solar cells to assist cabin cooling, vanity mirrors within the aforementioned picnic tables, a Mulliner champagne bottle cooler with crystal flutes (in back), Wi-Fi, a phenomenally good Naim audio system, rear entertainment with a TV tuner, powered side shades, adaptive cruise control, and much, much more.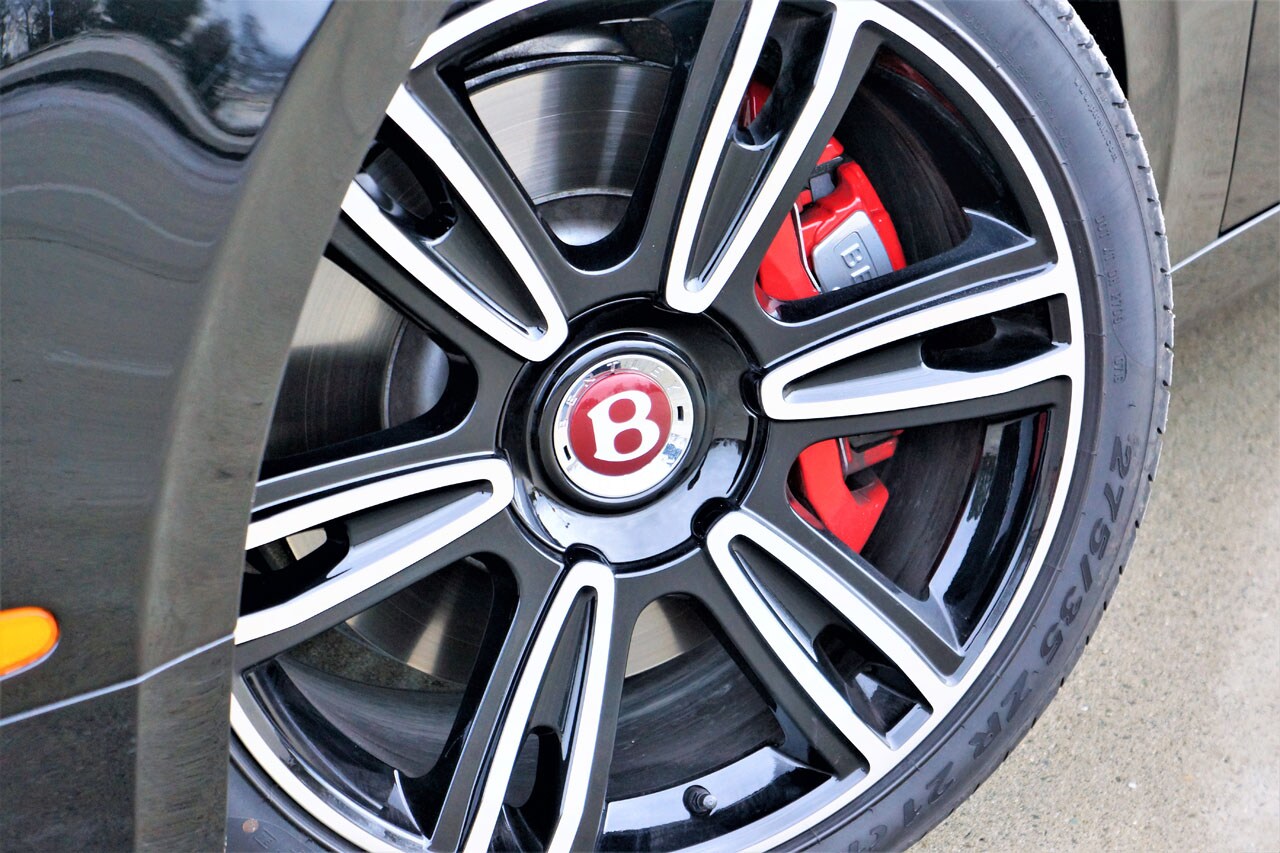 Decadent yes, but to those in the know it's the next best thing to the previously noted world's fastest and therefore ultimate sport sedan; the new Flying Spur V8 S every bit as agile as the W12 S if not quite as quick, and certainly as dramatically beautiful to look at.   
Story credits: Trevor Hofmann, Canadian Auto Press   
Photo credits: Karen Tuggay, Canadian Auto Press   
Copyright: Canadian Auto Press Inc.