Back to News & Events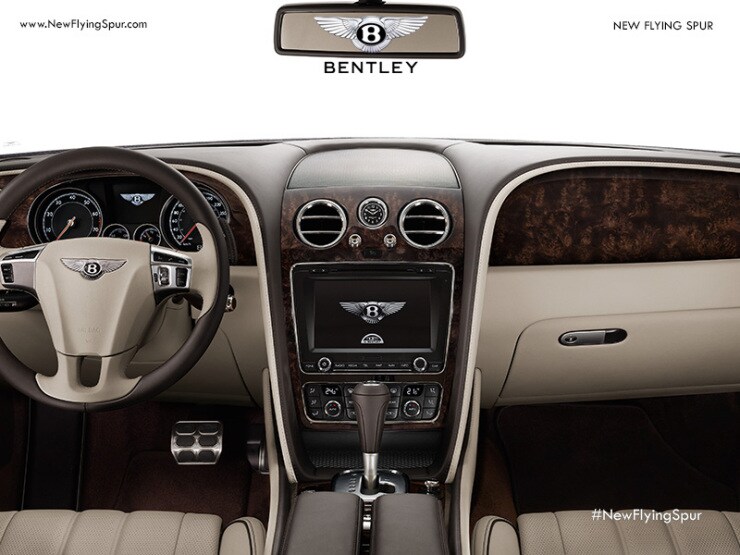 Inside Luxury: Why Handcrafted Work Still Matters in Bentley's New Flying Spur
Last night at the St. Regis Hotel Bentley and Krug co-hosted a small dinner for a few journalists to talk about the nature of luxury. The purpose of the evening was to allow us to speak casually with Bentley head Christophe Georges and Carl Heline, the U.S. director for Krug-to hear about the challenges they face as luxury brands in the modern world.
One main takeaway from the evening is that while the definition of luxury remains different for everyone, its nature is not.
"Luxury is something you cannot have easily," Georges said at one point, and I agree. Luxury for one soul could be lounging in a remote island hut with something exotic to drink, while for another it could be wearing an understated watch whose $80,000 value 99.9 percent of people would never recognize.
Then there's Mickey Drexler, who famously said that to him a peach perfectly ripened was true luxury. 
Regardless of the medium, one underlying commonality between many luxury items from watches to shoes to fragrance is how the human component interacts with the element of time-it's the years spent perfecting a particular skill that can be used only on the finest products.
A perfumer, for instance, spends 10 years studying as many as 5,000 fragrance molecules before even being considered to start on as a junior associate at the world's fragrance houses, and it can take 15 years before they can earn any sort of general creditably in their own right.
The craftsmen at Hermès have often grown up surrounded by their fathers and uncles working in leather shops for years before they assume the position of stitching six-figure handbags, say, or$91,500 alligator shirts.
The same goes for Bentley, which has just unveiled the mid-size Flying Spur into their lineup. The car is significant because it sits between the lighter, quicker Continental line and the larger, more stately Mulsanne. It holds a 6-liter, 616-horsepower W12 engine and eight-speed transmission and will go 0-60 miles per hour in 4.3 seconds. Top speed is 200 mph.
It also incorporates hand-stitched leather seating, hand-carved woodwork and steel crafted in much the same manner as it was when the Bentley Boys dominated the raceways-something most of us agreed last night is essential to any brand that must offer a reason for its astronomical prices.
"Without craftsmanship Bentley wouldn't be Bentley," Georges says. "It is part of our genes, our DNA."
Sure, other car brands will say the same, though there are few (Ferrari, Rolls-Royce, etc.) on par with the level of execution at Bentley. (Most who claim the title "luxury" are actually premium brands-high-end mass producers.)
Watch the video above to see a few simple demonstrations of the techniques Bentley says help make the brand a true luxury nameplate.
Source: Forbes