2016 Bentley Flying Spur V8 Road Test Review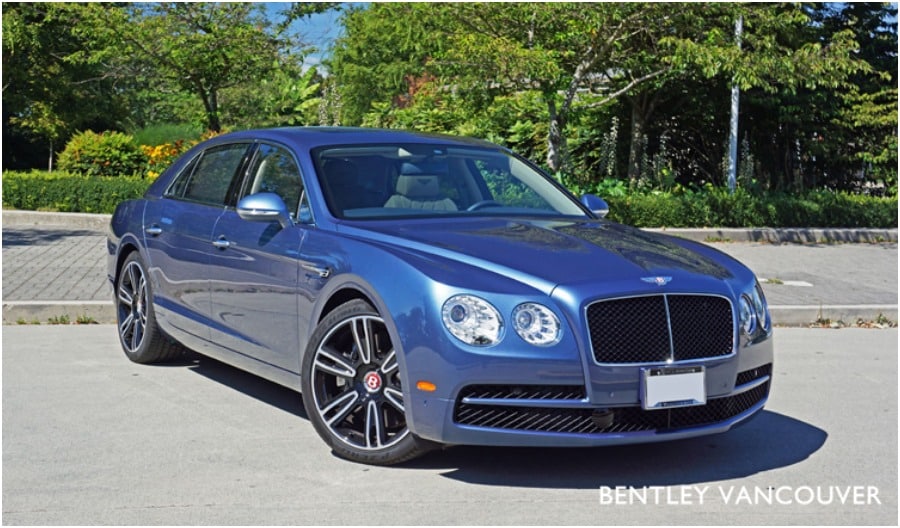 You know you've arrived when you arrive in a Bentley
 
Zero to 100 km/h: 5.2 seconds; top speed: 295 km/h; horsepower: 500; torque: 487 lb-ft; and this is the "slowpoke" of the Flying Spur line. 

 
I'm joking of course. It's slowest, but it's hardly lethargic. It's just that Bentley recently made news for producing the world's fastest luxury sedan. The new Flying Spur W12 S whisks to 100 km/h in only 4.5 seconds and tops out at 325 km/h, thanks to a twin-turbocharged 6.0-litre 12-cylinder capable of 626 horsepower and 605 lb-ft of torque. That would be the quick one, inching out the previous world's fastest and still available non-S Flying Spur W12 by 0.1-second to 100 km/h while nipping a whole 5 km/h off its claimed top speed. That's astounding performance no matter which model we're talking about, but let's not forget the entry-level Flying Spur V8 is still faster than most luxury cars it's up against. Then again, after contemplating its perfectly elegant outward lines and soaking up its inner opulence I could hardly care how quick it was. 
Ultimate speed and comfort
 Straight-line speed is wonderful and at the limit cornering even more so, but let's be real, unless you happen to live on a mountainside or a waterfront property accessed by a circuitous coastal two-laner (ok, this might be an accurate description of a Bentley owner's Lower Mainland abode), and then don't use these roads when everyone else does, most stints behind the wheel will be less enthusiastic. Reason enough to own a car capable of deft feats of high-speed curve management when called upon yet perfectly suited to serene, smooth, silent limousine service the rest of the time. Whether you employ a driver to take care of traffic duties while prepping for the day from the Flying Spur's comfortable back seat or control your own commuting destiny, Bentley's "smallest" sedan is plenty spacious. 

 
It's a large car by most peoples' standards, measuring more than five metres long, in excess of two metres wide and almost 1.5 metres tall; its 2,425-kilo mass substantive, as one would expect after witnessing the solidity of its handcrafted hardwood inlays (or machine-turned aluminum, piano black surfacing, etcetera), the density of its metal vents, organ stops and trim, some with jewel-like knurled detailing, others satin-finished and yet more that are mirror polished, and the extensiveness of its fine quilted leathers and rich wool carpets. Bentley cuts no corners when it comes to quality, with hand-stitched hides trimming the dash and instrument panel, the door panels all the way into their frames, wrapping each roof pillar, surrounding both visors, adorning the otherwise wood and metal front and rear overhead consoles, covering the rest of the roofliner, and most everywhere else. Everything is artisan-finished. 
Equal parts tradition and tech
 The seats are some of the best I've experienced, and not just because of their near chamois soft, quilted and perforated grade-A leathers, but more so because of how well they fit backsides and their ample powered adjustability, while Bentley included multi-temperature heat and cooling to optimize comfort. Likewise both front occupants can set their own surrounding temperatures via an easy to use quad-zone automatic climate control interface, as can those in back, the latter via a removable colour tablet that also lets you power the rear sunshade or adjust audio, media, navigation, and vehicle settings such as language, display, sound, reset, phone pairing and the child door locks via the front infotainment system­ - keep this away from your kids. They'd have a heyday with the dual chromed switches atop each rear armrest too, one for the window and another for the side shade, plus the rear outboard seats are power-actuated including memory, four-way lumbar adjustment and massaging action. 

 
Some additional extras include a heatable steering wheel, twin 10-inch LCD screens in back, a full rear centre console, a refrigerated cooler, deep-pile floor mats, folding seatback tables, and much more, while Mulliner will happily provide fitted luggage to optimize the spacious trunk, which incidentally is more luxuriously appointed than some so-called premium cars' rear seating compartments. Suffice to say only the ultimately spoiled would dare complain about this more basic example's amenities. 

 
Breitling supplies the analog clock at dash-central, although while an elegant addition I found myself using the infotainment display more often. It features a nicely laid out high-resolution touchscreen filled with all the functions you'll likely ever need, including a backup camera with guidelines, navigation with mapping, phone connectivity and much, much more. The same can be said for the colour multi-information screen within the beautifully detailed analog gauge cluster, the latter item's orange meter needles exquisite. 
Superior 8-track sound
 My tester didn't incorporate the sensational Naim audio upgrade, but the stock stereo certainly passed scrutiny. Still, even its crisp highs and resonant lows couldn't compete with the mellifluous tones of the wonderful 4.0-litre V8. There's nothing raucous or raspy about it, the twin-turbocharged mill producing a lovely low rumble when getting on the power, which intensifies as revs rise albeit never to a point of overwhelming the inner sanctum. The Spur is more about leaving the world outside than fully engaging its harsher elements, the drivetrain's eight-speed automatic brilliantly communicative when set to its sportiest mode and gear-swappable via the console-mounted shift lever or steering column paddles, although it's almost as imperceptibly unnoticeable as a good valet when left to its own devices.

 
All-wheel weather conqueror
 Likewise you probably won't realize sixty-percent of the engine's torque goes rearward and forty twists the wheels up front, the Spur's permanent all-wheel drive joining all the expected active and passive safety gear for total control no matter the road conditions or weather (an ideal ski hill conveyance, Bentayga aside, thanks to a rear seat pass-through). The ride is sublime, which is a grand achievement considering how well the big Bentley handles serpentine side roads, both skills at least partially attributable to a computer-controlled, self-leveling air suspension. 

 
Normally I wouldn't pay much attention to fuel economy in the ultra-premium class, but Bentley is particularly proud that this Flying Spur V8 can cruise up to 840 kilometers on a single tank, partially due to cylinder deactivation, intelligent thermal management, and electrical recuperation. The result is 12.7 L/100km combined city/highway, which is mighty impressive for a luxury car of the Spur's size and substance, and I repeat one that's as energetic off the line and as nimble to drive as many sport sedans half its size. 
So good looking there's no need for bling
 Efficiency certainly wouldn't be my first Flying Spur consideration, nor for that matter its superb performance. Call me shallow, but I'm absolutely smitten by its exterior design. Where its few peers and myriad pretenders continually brighten their ever-enlarging grilles and add yet more chromed glitz all-round, the Flying Spur seems to downplay its pedigree, as if it was raised in Kensington yet taught to be mindful of those in Hackney. Of course it hails from Crewe, a quaint railway town in the county of Cheshire, 254 kilometers north of London, but despite its rural roots it's certainly civilized, with only the faintest of chromed edgings around its modestly sized black-mesh grille, the latter set between an elegantly penned quad of LED-enhanced headlamps, all hovering above an ideally simple body-colour and black-mesh lower fascia.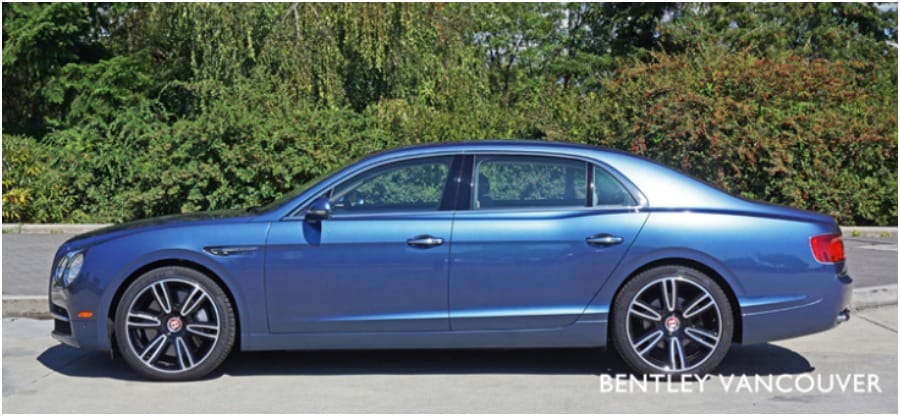 Likewise, its profile view is only dressed up with a stylized chromed "B" fender vent, plus mild door handle and window trim brightwork, whereas its beautifully shaped LED tail lamps are encircled by a mere pinstripe's width of glittery metal, and sideways "8" shaped tailpipes suitably chromed as well. My Spur's optional 20-inch alloys were downright sporty, especially their red centres and 275/35ZR20 Pirelli P Zeros, these being upgrades over the base model's 19s. Still, the Flying Spur's visual statement declares a grand arrival without fanfare, a car with all the confidence in the world yet no need to flaunt it. 
This said, anyone familiar with the famed Bentley B will immediately appreciate the significance of the brand and its cars, and when pulling up at the valet, the good taste of the driver, or the person emerging from the rear passenger compartment. The Flying Spur is very special, and worthy of its $240k price of entry. 
Story credits: Trevor Hofmann, Canadian Auto Press 
Photo credits: Karen Tuggay, Canadian Auto Press 
Copyright: Canadian Auto Press Inc.